Tajh Boyd was awarded the Athlon Sports National Player of the Week after a huge victory over the University of Georgia. The win, to some degree, marked the Tigers' entrance onto the national stage and the completion of the program's full transformation–from annual under-achiever to serious contender–under Dabo Swinney. Boyd was one of Swinney's first major recruits–he signed on before Dabo had even a full season under his belt. Years later, Boyd would mean so much to the program that Coach Swinney included him in the interview process that culminated with hiring of OC Chad Morris. While Tajh Boyd's resume get's an "incomplete" at the moment, he stacks up pretty well against the greatest in University history and it was fun to compare and research some of the greats of yesteryear.
I'm no historian and it's only my first year of being a Clemson season ticket holder (though I've been to 62 Clemson football games) so pitch in with your suggestions in the comments below. The dates beside players' names indicate the seasons during which they were on the roster and not redshirted.
So, we begin with the honorable mentions and countdown to #1.
Honorable Mention Charlie Whitehurst ('02-'05): Largely known for beating South Carolina four times, Charlie Whitehurst took over after Woody Dantzler. As a sophomore, he threw for 3,561 yards with 21 TDs. That season was his high point as the Clemson Tigers won nine games including memorable wins over FSU (the start of their decline), South Carolina (63-17), and Tennessee (who was ranked #4 headed into that Peach Bowl). Whitehurst owns the Clemson record for completions and pass attempts.
A few items barely keep him out of the top five. He won just 7, 6, and 8 games in his freshman, junior, and senior seasons, respectively. His career TD-INT ratio is only 49-46. (His junior season is largely to blame for that as he posted a poor 7-17 TD-INT Ratio). Although beating South Carolina is always fun, we also have the fond memory of just how awful those Gamecock teams really were (one bowl appearance and zero bowl wins in those four seasons).
Honorable Mention Bobby Gage ('45-'48): Gage played before passing was en vogue making it very hard to compare him to players of our era, but he led Clemson to a perfect 11-0 record in 1948 and was named the MVP of the that season's Gator Bowl. In addition to being the starting quarterback, he also tallied 10 career interceptions as a defensive back. He is a member of the Clemson football Hall of Fame. After his career at Clemson, he was drafted 6th overall by the Pittsburgh Steelers.
5. Homer Jordan ('79-'82): The national championship quarterback deserves his due and squeaks in at #5. He played in an era of great defense and hard-nosed rushing attacks, yet was a critical piece to some of the best Clemson football teams. He was the Clemson offensive MVP in the 1981 Orange Bowl that gave the Tigers their program's National Championship. He left it all out on the field that night. After winning the game, he passed out from heat exhaustion. In 1981, he had the second most passing TDs and the highest passing efficiency in the ACC. His stats don't tell the story though. His combined record as a junior and senior at Clemson was 21-1-1.
4. Woody Dantzler ('98-01): At the turn of the millennium, Woodrow was one of the most electrifying running quarterbacks in the nation. Part way through his RS sophomore season in 1999 he took over as starting quarterback for Tommy Bowden's then 1-2 football team and led them to a Peach Bowl.
In his junior campaign, the Tigers finished with 9 wins, but it was his senior season that was most amazing. He tallied 2,360 passing yards and 17 passing touchdowns along with another 1,004 yards on the ground and 10 rushing touchdowns. With that, he became the first player in NCAA history to pass for 2,000 yards and rush for 1,000 yard. He set 53 Clemson records and is in the Clemson football Hall of Fame.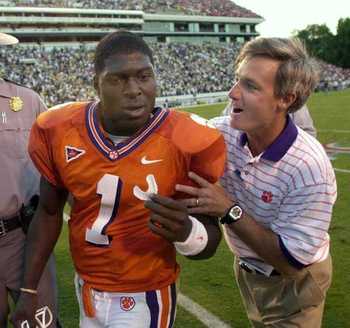 3. Steve Fuller ('75-'78): Steve Fuller played under Coach Charlie Pell and started 27 consecutive games for him. He was an All-ACC selection in '77 and '78 and was honored as the ACC Player of the Year both years. He is the only Clemson Tiger to do it twice. He also finished sixth in Heisman voting for his 1978 campaign. Oh yeah, he also earned a 3.93 GPA (like me) and made the Academic All-ACC team three times (not like me)… Well played sir. His name hangs in Memorial Stadium.
2. Tajh Boyd ('10-13): After his RS senior season, Tajh Boyd may be unanimously considered the greatest QB in Clemson Tiger history. Entering his penultimate campaign, Boyd sits just 12 wins shy of the most wins by a Clemson QB. He is already first in school history in passing touchdowns, first in passing efficiency, first in touchdown responsibility, second in passing yards, second in passing attempts, second in completions, and second in completion percentage.
Starting his career with three losses to South Carolina (Kyle Parker played half the game in 2010) is ugly, but it is unfair to compare that to any other Tiger QB who played against horrible Gamecock squads. With 12+ wins in 2013 including one over South Carolina, Boyd will become the top dog Tiger.
Updated (12-6-13): Tajh Boyd heads into a major bowl game to close out his collegiate career. A win will tie Rodney William's win record. Boyd became the ACC's all-time leader in TD responsibility and passing touchdowns, breaking Philip Rivers' passing TD record in one less season. Should he lead the Tigers to a bowl game victory, he'll hold essentially all meaningful QB records at Clemson. Can three loses to arguably the three greatest South Carolina teams in school history deny him the top spot in the Clemson QB rankings?
1. Rodney Williams ('85-'88): Coached by Ring of Honor inductee, Danny Ford, Rodney Williams is the greatest QB in Clemson history. He currently holds the record for the most games won by a Quarterback (32), most consecutive passes without interception (122), consecutive games completing a pass (46), most games started by a quarterback (44), and won three straight ACC Championships. Clemson has two ACC Championships since he graduated (to be fair, FSU joined the conference after Williams matriculated).
If you enjoyed this post, please click the Facebook "Like" button on the right sidebar. You can share your opinions in the comment section below. Thanks for reading!